Strategies for Individuals and Families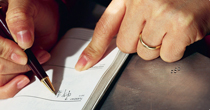 We'll help you create a solution just right for you. You can enjoy peace of mind knowing you have a financial strategy that provides you with confidence that all of your financial resources are working together toward your long-term financial goals.
Your goals and dreams are as individual as you are. Whether you're starting a new family, preparing for retirement, or running a business, we will work with you or your business to build a solid strategy to meet your needs. A good strategy, can help you manage risk and bring your goals within achievable foresight.
We can help you devise a solution that addresses objectives such as: investment and retirement planning; minimizing income and estate taxes; assessing your life and disability insurance, will, and estate planning needs. A personalized financial strategy that reflects your changing life needs is unique—that is why we'll support you with a financial analysis that will help you make wise financial decisions designed to meet your long-term and short-term goals.
The particulars contained herein were obtained from sources which we believe reliable but are not guaranteed by us and may be incomplete. The opinions expressed have not been approved by and are not those of Investia Financial Services Inc. This website is not deemed to be used as a solicitation in a jurisdiction where this Investia representative is not registered
Mutual funds, approved exempt market products and/or exchange traded funds are offered through Investia Financial Services Inc. Insurance products are offered by Integrated Wealth Management.